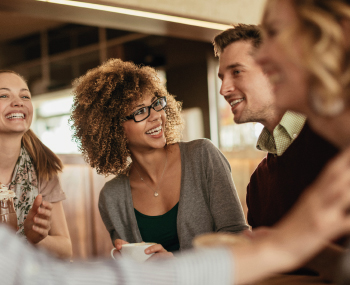 Help someone quit
The majority of ex-smokers agree that it's easier to quit smoking when you have support. Helping someone quit smoking means above all listening and lending support.
Use these tips to know what to say or do to encourage someone who wants to break free from cigarettes.
HE'S AFRAID OF PUTTING ON WEIGHT
Quitting smoking will probably increase his appetite because, in part, the nicotine is no longer there to take the edge off his hunger. People also tend to snack more to compensate for the habit of holding a cigarette and putting it in their mouths. The good news is that adopting a healthy lifestyle (being more active, eating better, listening to your body and eating only when you're hungry, and drinking lots of water) can help you control your weight—even better if you can get started before you stop smoking. For more information, consult the Healthy living section.
HE'S THREATENING TO GIVE UP
Convince him to hang in there! Remind him that the first few weeks are the toughest. Encourage him to remember the reasons that got him to stop in the first place and compare them to why he wants to start up again. If his mind is made up and he really wants to throw in the towel, don't get angry no matter what! It usually takes more than one attempt to quit for good. Encourage him to try again when he feels ready and to think about what brought on the relapse. This will prepare him for his next attempt. The important thing is that he keeps trying.
WE HAD A FIGHT
Do whatever it takes to re-establish communication. Bear in mind that quitting smoking is very hard on the body and causes stress, anxiety, and irritability. Then, if you haven't already done so, come to an agreement about how you'll deal with future outbursts caused by withdrawal.
HER PARTNER IS A SMOKER
Why not suggest that he also quit smoking? If that's not possible, she could ask her partner to smoke outside. Living in a smoke-free environment increases the chances of successfully quitting smoking and reduces the risk of a relapse. For more information, visit smokefreefamily.ca.
SHE'S FINDING WITHDRAWAL DIFFICULT
People can experience different physical and psychological withdrawal symptoms that start a couple of days after quitting and last up to three or four weeks, sometimes more. Possible symptoms include irritability, insomnia, headaches, food cravings, nasal congestion and constipation. Help your partner during this difficult time by spending time with her. You could even arrange to get together every day for a walk.
HE HAS STRONG CRAVINGS TO SMOKE
Your watchwords: availability and creativity! Be your protégé's nicotine 9-1-1. Tell him to call you no matter what the time is. Tell him to listen to the message of encouragement that you left him on his voicemail for moments like these. Give him a photo of yourself to carry in his wallet. That way, whenever the cravings are too intense, he can look at the photo and be reminded of his commitment to you.
OTHERS DISCOURAGE HIM
Use this to boost his motivation. Work together to prove that he can quit! Don't hesitate to send your protégé notes or little surprises to encourage him. Try to get him to be more active, to relax and to take their mind off it. Why not suggest an outing together (e.g. a walk, a hockey game, the movies, a restaurant)?
I'M OUT OF IDEAS TO SUPPORT HIM
We've got a ton of ideas! Check out the testimonials or reach out for help on our Facebook page.
I DON'T KNOW EVERYTHING ABOUT QUITTING SMOKING
There are limits to what you can do. It's only normal. You can always suggest that she call the iQuitnow helpline at 1 866 527-7383, where trained counsellors will be able to answer her questions and provide her with the support she needs. You can also suggest that she join a support group. To find out more about these groups, consult your local Stop Smoking Centre.
SHE'S SMOKING ON THE SLY
Set the record straight right away and have your partner ask herself why she wants to quit smoking. If it's really going to work, she can't be doing it for you. Keep in mind that it's HER motivation that matters. Don't push too hard.