Tools
Increase your chances of quitting successfully by using our free support tools. A healthy dose of motivation and a helping hand: two key ingredients you need to reach your goal!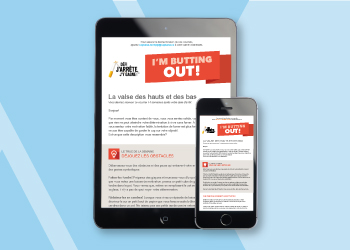 The encouragement emails
When you register for the Quit to Win! Challenge, you can sign up for our free I'm Butting Out! emails. The email messages provide encouragement and practical suggestions to help you get ready to butt out, fight cravings, and stay motivated.
The emails start two weeks before your quit date. You will receive one message every week for the first four months, and then one per month until you've gone one year without smoking.
A great source of motivation for many participants!